Description:
The PC Extension Station extends your PC to your desk by providing easy USB access, neat power management and optional DIY 5.25" or 3.5" device installation for easy frontal access. It works as a LCD stand by raising it parallel with your vision comfort level. It is also a keyboard docking station that will save your valuable limited desktop space. It holds up to 22.50KG (appr.49.50LBS) with a dimension 54cm (w) x 24cm (d). The station integrates 5 power outlets (110v) with individual frontal switch controls and a master control. It offers fuse protection in case of over voltage or over current. 4 USB outlets were built in for handy everyday access as well. There is a drawer in the 5.25" bay you could use as miscellaneous item storage for memory card, CD or DVD media and more, or you could install a 5.25" device in the bay by mounting from the bottom. There is also a 3.5" bay as well for optional device use.

Technical Details

1 PC Extension Station
1 60CM Power Cord
1 1.2M (4.5 Feet) USB Cable
Dimension: 21" x 9.5" x 4.5"
Brand: Logisys
Model: PE101
Now then, I like the design and layout of this Power Station very much. The "Problem" with it was its construction. Gluing some sections together was a good idea 'except' the glue used was NOT good enough. I had trouble with the back panel power connectors. I complained to the manufacturer and he sent me two new ones and I did not have to return the old ones!! Great I thought UNTIL I found that they all had the same problem!! I will have to find some glue -OR- some screws that will fix the problem. The front panel switches experience the same problem. I do need to say that it is a nice setup -but- even though it looks good, it seems like it was made in someone's garage. Because the outlets on the back are not secure, you wouldn't want to plug and uplug into them very much. Then there is the USB panel on the front. It is to be held in by two screws. One was missing and the other is really to short and keeps falling out. -But- even with these, I still like it and I think it is a good base for a tinkerer. A normal person may want to think twice.
I did make one modification to it. I drilled holes and installed to small screws at the back for my monitor. I was worried about it sliding off. If you look at the Sony Monitors, and some others that have the fold out stand, they can get jarred or accidentally pushed back and there is nothing to stop them from crashing to the desk, UNLESS you are close to a wall, -OR- you put in stopper screws like I did. These were little number 2 screws but they do the Job. JFYI.
Kikkerland Tap USB Light
January 2nd, 2017 Got this little jewel for Christmas from my daughter. Couldn't figure out where to put it so it is here. Mainly cause I am plugging it into one of the USB ports on this Power Station.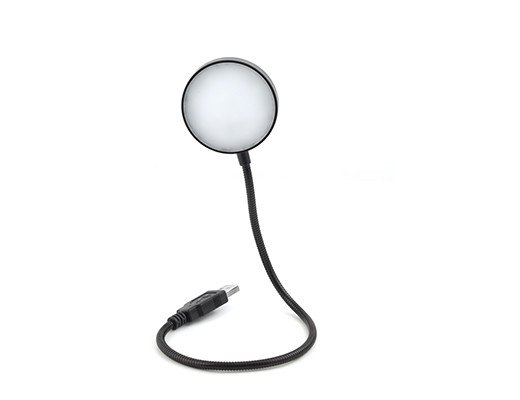 Plug USB into a USB port.
Position as desired.
Tap center of on/off switch to turn on or off.
Touch and hold to dim. Touch and hold again to brighten.