(623) 877-1503 · 6800 N. 95 Ave. Suite 230. Tanger Outlet Center Westgate Glendale, AZ 85305.
This is to be about my newest shoes, for no other reason than to create a WebPage about them -and- to experiment with TopStyle 5 -and- HTML 5. Now then, I just decided to create a brand new WebPage in my TopStyle 5 that I haven't used very much and want to. On top of that I would like to see what HTML 5 is all about... because when I went to create a "new" HTML Document inside TopStyle 5 I was given a number of selections, or choices. One of them was HTML 5. I selected it and was presented with a Webpage that looked identical to the HTML 4 WebPages that I have been working with for the last couple of years.
Later: Well now, that is not true. This 'default' HTML page only has the:
DOCTYPE
html
head
title
body
Well, I am showing the world my ignorance. The structure of the DOCTYPE is what determines the type of document... always has. IF you create one of each of the selections and then look at the top line you will see what I am talking about. I also have the latest, or close to it, Validator. It has some excellent messages -and- warnings.
-AND- I have switched back and forth between

Top

Style

5 and my

Homesite

. Guess I will never give it up. It still works in

Windows 7, 8 and 10

. It was, and still is, a great product.
---
Reebok Men's Royal Trainer MT Walking Shoes
1st pair - November 17th, 2015 ; 2nd pair - April 9th, 2016 ; 3rd pair - October 17th, 2016
Now then, the first pair I wore out. The second pair sat on my shoe rack most of the time. I was wearing the Nike's as my daily shoe. Walking my Dakotah in the Arizona ruff country and doing some yard work. They wore out and I decided to get another pair of these. So the 2nd pair will now become my daily's.
November 7th, 2016 - Third pair didn't make it. The computer at Reebok screwed up and the order didn't get packaged and sent off to me. So I got the ones on the bottom of this page. Will get another pair of these later.
May 26th, 2017 - Third pair. Ony these have Blue where the Red was on the ones in the pictures.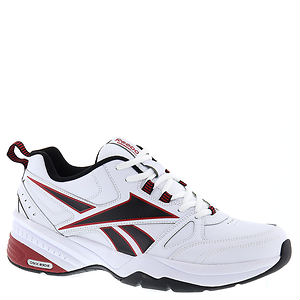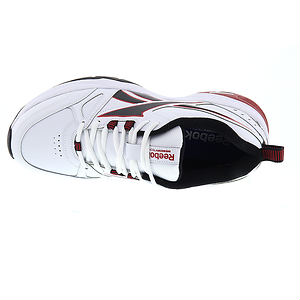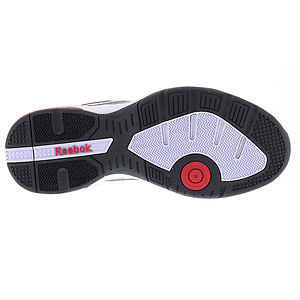 ---
Product Information
Memory foam makes the difference in this amazingly comfortable training shoe
Synthetic/mesh upper
Lace-up closure
Removable full-length MemoryTech memory foam footbed
DMXRide midsole cushioning for a responsive ride
High-abrasion rubber sole with forefoot flex grooves
---
April 9th, 2016 Just ordered these online from Sports Authority... cause they do NOT carry them in their store. JCPenney's no longer carries them... and it looks like they will disappear from other locations as well. Styles come and go. Anywho, I got a pair of Nike's a couple of days ago -but- they just don't feel right. They are also size 10 regular -but- they feel a little big. However, I lost almost 40lbs and that can, and does, affect your clothes, including your shoes.
October 17th, 2016 Just ordered another pair from Reebok.com. Supposed to be here in 4 to 7 days.
These Reebok® men's Royal Trainer MT walking shoes deliver sporty style for the street and support throughout your workouts. DMX Ride midsole foam provides stellar cushioning and absorbs shock, while a MemoryTech sockliner adds extra comfort and accommodates orthotics. A durable, high-abrasion rubber outsole with forefoot grooves ensures excellent traction and essential flexibility.
Now then, I have plantar fasciitis. Caused by standing as a Door Greeter at Walmart and now standing behind the registers at McDonalds. Both on hard floors. Corrected, actually just helped, by Peak Gel Heel Cushions.
Product Details
Key Specs:
Model Number: M41261
Shoe Width: D
Classification: Walking
Recommended Fit: These shoes run true to size.
Abrasion-Resistant Toe Cap: Yes
Rearfoot Notch: Yes
Padded Tongue/Collar: Yes
Shoe Weight: 12.6 oz (size 8)
| | |
| --- | --- |
| | |
| | Synthetic and leather upper provides comfort and breathability. |
| | A soft cushioning material that also offers durability. |
| Outsole: High-Abrasion Rubber | High-abrasion rubber outsole offers durability. |
| Cushioning Technology: DMX Foam | DMX foam offers comfortable cushioning. |
| Lacing System: Traditional Lacing System | Traditional lacing system provides a tighter fit for more centralized support. |
Additional Info
MemoryTech sockliner adds comfort and accommodates orthotics
Forefoot grooves add flexibility
Made in China
---
As for the "wearing out" on all these shoes, including the New Balance that I had, it was the Toe Cap that came loose on all of them. This could be caused by my "Foot Drop".
---
Nike® Air Monarch IV Mens Training Shoes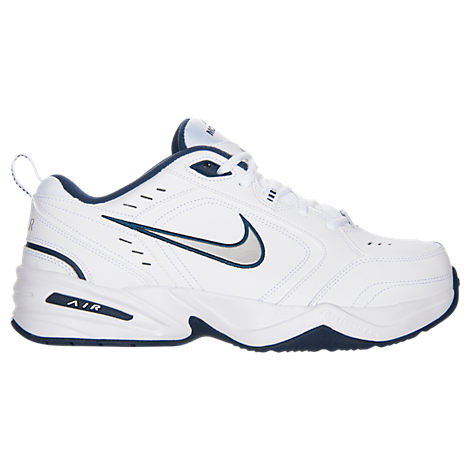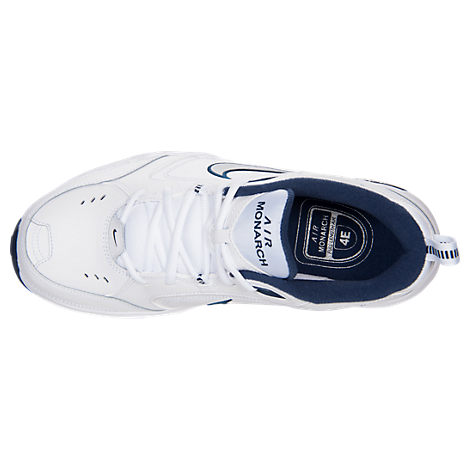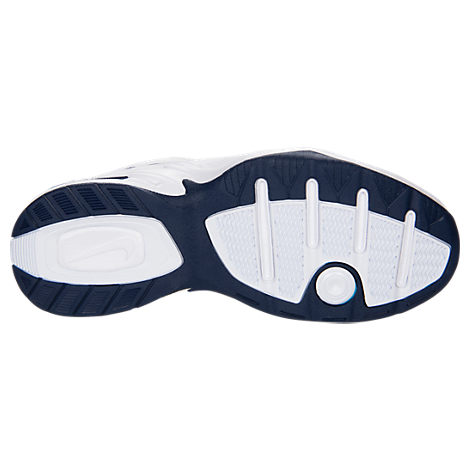 Wore the first pair of Reeboks out and purchased these Nike's in the interim. April 6th, 2016
Description
With the Nike Air Monarch IV Cross Training Shoes, your training just got a whole lot more comfortable. Featuring lightweight cushioning from the full-length Nike Air unit, these sneakers can stand up to hardcore training sessions and intense workouts.
A reduction in distractions and irritation is easy with the Air Monarch IV, which has a soft fabric lining and mesh tongue for breathable comfort. Perforations in the midfoot and forefoot keep air flowing, while the full-length Phylon foam midsole helps to offer a plush feel underfoot. The multi-pattern rubber outsole gives you the traction you must have while you are working up a sweat, while flex grooves ensure durable flexibility.
FEATURES:
WEIGHT: 15 ounces
UPPER: Synthetic and mesh with leather overlays
MIDSOLE: Full-length Phylon foam, full-length Nike Air
OUTSOLE: Rubber with multi-traction pattern and flex grooves
IMPORTED
A classic everyday athletic shoe from Nike, the Air Monarch IV continues to be a favorite cross-trainer for many.
---
Reebok DMX MAX Walk ULTRA V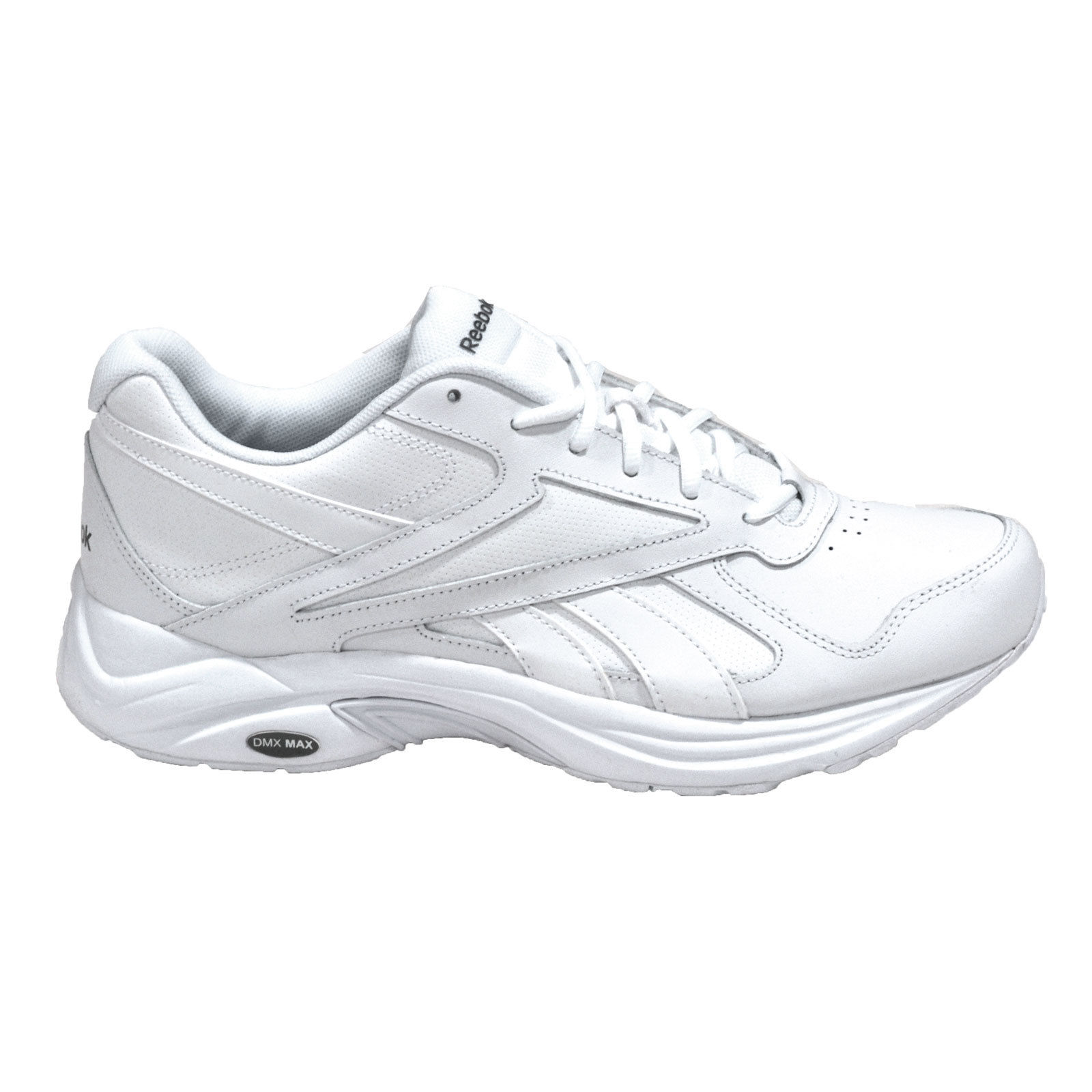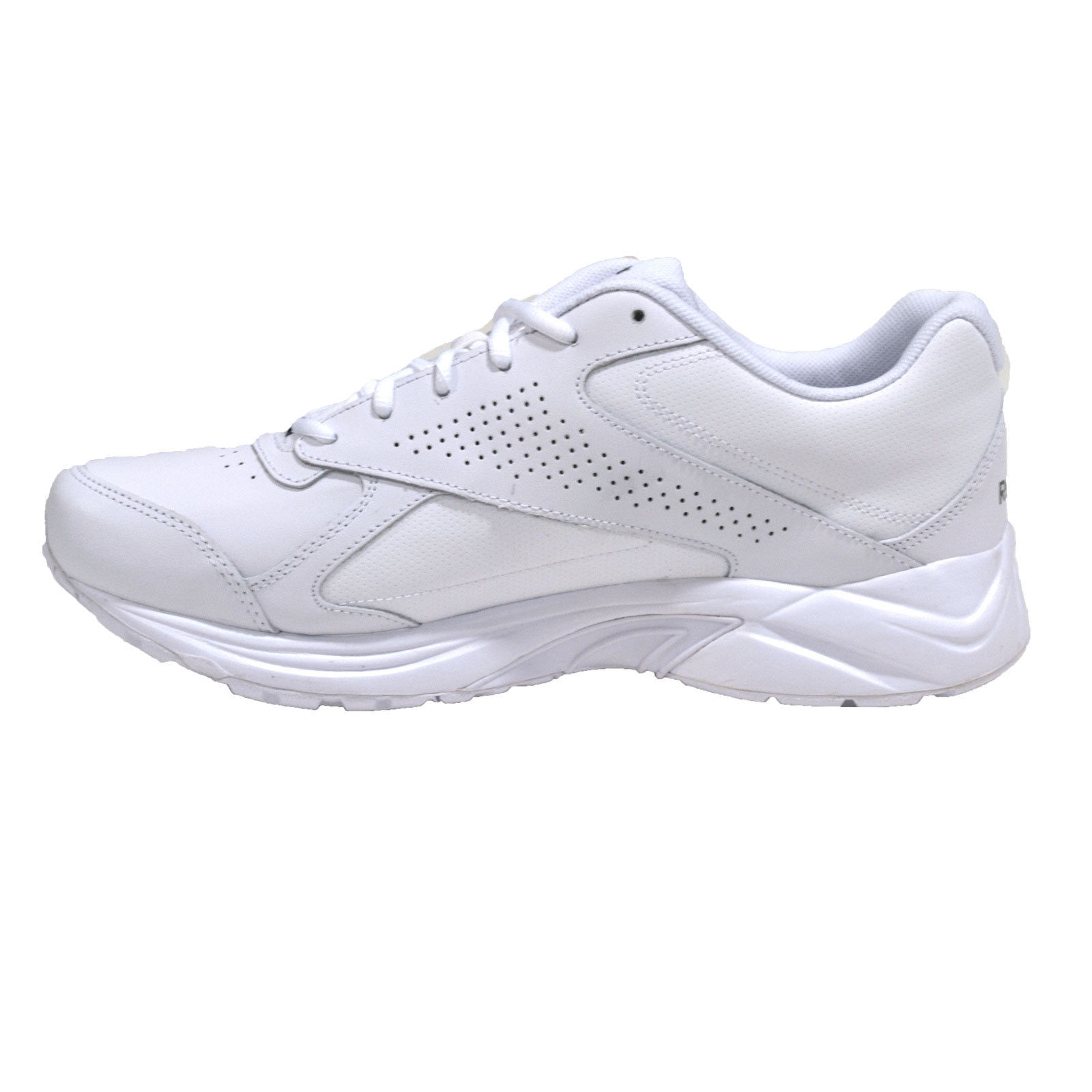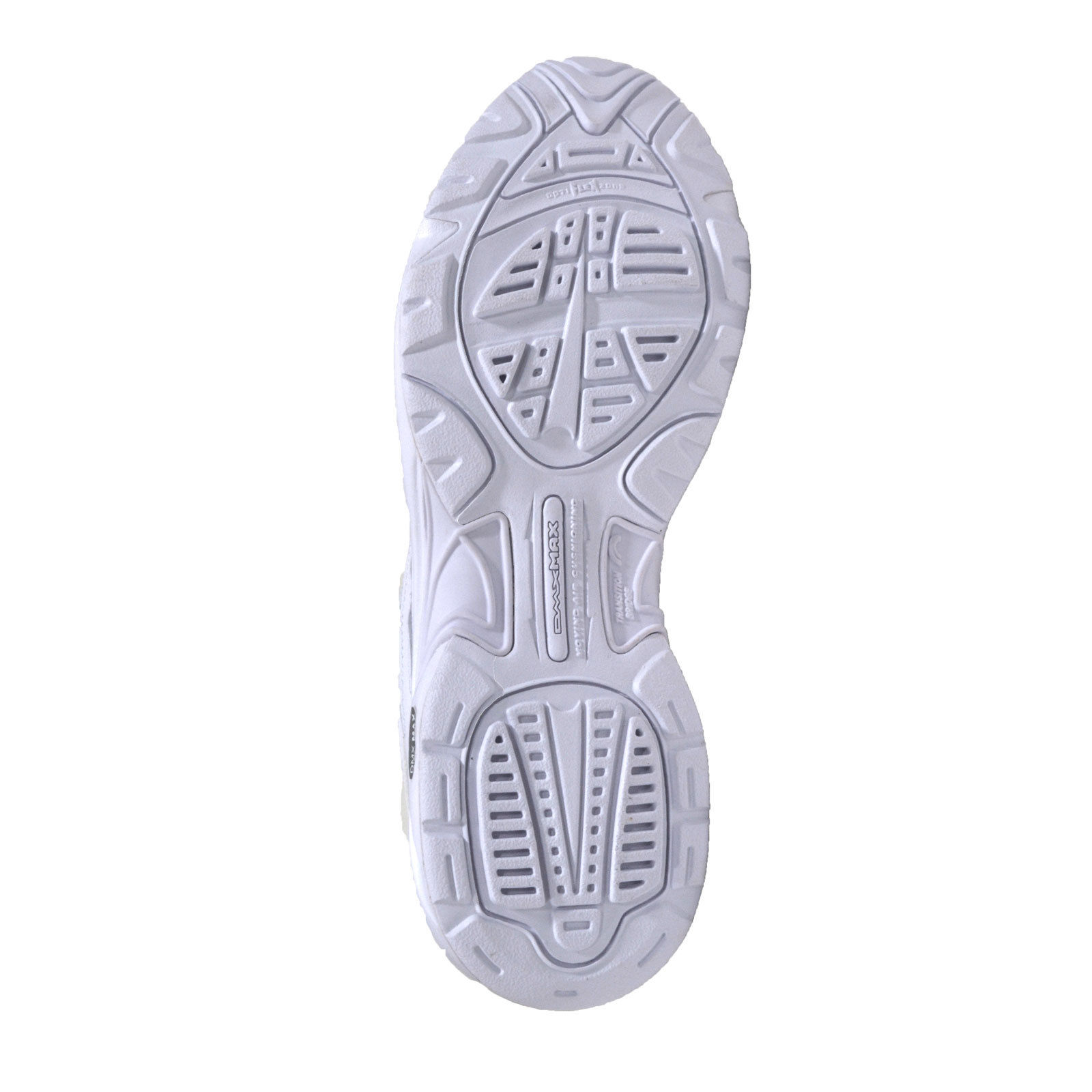 November 6th, 2016 Bought these at a "local" Reebok store that I didn't even know existed... and it is only a couple of miles from where I live!! Anywho, we went there looking for the Royal Trainers -but- they did not have them. We got a 40% off coupon in our e-mail so we used it to get the shoes... $42.32.
Now these shoes are different. In fact they are so new, or so old, that I couldn't find any pictures like the ones above, for the Royal Trainer, for this shoe. The color is actually white/collegiate navy.
May 26th, 2017 Wore the previous ones out. Didn't realize that the "owner time" was so short till is started editing this. I wore out the heels. I drag my feet a lot when walking. Old age -or- my medical problems... not sure which. However, I will not get another pair of these. I thought they were good for my ruff teraine walking but NOT for flat land walking. The heel is almost missing in the way they have desinged the shoe. It makes them kinda slap happy. You know, when got your Dad's shoes on and they kinda slapped the ground when you walked. I kinda liked the first pair but for some reason I am not liking the second pair. Oh, and the second pair looks like the picture. Couldn't find any with a color trim.