Therefore, since we are surrounded by such a great cloud of witnesses, let us throw off everything that hinders and the sin that so easily entangles, and let us run with perseverance the race marked out for us. Let us fix our eyes on Jesus, the author and perfecter of our faith, who for the joy set before him endured the cross, scorning its shame, and sat down at the right hand of the throne of God. Consider him who endured such opposition from sinful men, so that you will not grow weary and lose heart. Hebrews 12:1-3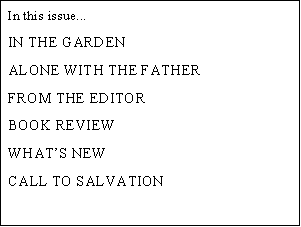 Lately, I have been doing a lot of meditating on the life of Jesus. God has been dealing with me in some very eye-opening ways. Any one who knows the Lord, will agree to the fact that just when you think you stand, be careful--lest you fall (1 Corinthians 10:12).


During these times of meditation and focusing on Jesus, everything I read pointed to the prayer life of Jesus and His relationship with the Father. If Jesus found it necessary to continually pray in order to remain in relationship with the Father, how much more should we. This month's issue of one of my favorite magazines entitled, "Pray!" was dedicated to the life of Jesus and how often He prayed and what caused Him to pray. I want to share some of what I learned with you this month.
The article "Just Like Jesus" written by Dann Spader in Pray! Magazine made some fascinating points. One was that Jesus began His ministry (Luke 3:21) and ended His ministry (Luke 23:46) on earth with prayer and there are 45 references in the Bible to Jesus praying. The other point the article makes is the priority Jesus gave to prayer. He often went off by Himself and prayed early in the morning (Lk 6:12-13; Lk 5:15-16; Lk 9:18 to name a few).


IN THE GARDEN
I learned a lot by taking notice of the times when Jesus would pray. The one instance that stands out in my mind is the Garden of Gethsemane. I have found myself in my own Garden of Gethsemane from time to time. I would always feel embarrassed to be agonizing and crying to God thinking rather that I should be stronger and have more faith. Amazingly, when I studied Jesus' behavior in the Garden of Gethsemane, I saw Him in the same place that I often find myself.
Scripture: Matthew 26:36-46
Background: This Scriptures opens with Jesus, Peter, John and James going up to the Garden of Gethsemane the evening that Jesus was to be betrayed by Judas to suffer death on the Cross. The Bible says He went up to the Garden to pray. He took Peter, John and James with Him and they were also instructed to watch and pray. However, Jesus went off to Himself to pray to the Father. This is where we get a glimpse of His prayer.
MT 26:36 Then Jesus went with his disciples to a place called Gethsemane, and he said to them, "Sit here while I go over there and pray." 37 He took Peter and the two sons of Zebedee along with him, and he began to be sorrowful and troubled. 38 Then he said to them, "My soul is overwhelmed with sorrow to the point of death. Stay here and keep watch with me."
Can you identify with Jesus' feelings of being "overwhelmed with sorrow and trouble to the point of death?" These are the words of our Lord. Notice how open and honest He is with the Father about His feelings.
MT 26:39 Going a little farther, he fell with his face to the ground and prayed, "My Father, if it is possible, may this cup be taken from me. Yet not as I will, but as you will."
This verse tells us what He did about His feelings. He "fell with His face to the ground and prayed." Is this what we do when we are so troubled and overwhelmed with sorrow? If Jesus did it, why not us?
I want to stop here for a moment and tell you about a garden experience in my life. Not too long ago, circumstances arose where I felt totally alone, overwhelmed with sorrow and deeply troubled. I felt I had no where to turn and no one who really understood my pain. Thank God for His mercy, because one day when I was alone, I totally broke down and I cried to the Lord saying, "I can't do it, I can't do it." Then all of a sudden, I began to feel within my spirit a calm and peace from out of no where. I could sense in my spirit God saying, "No you can't, but I can." I believe that it is the simple, heartfelt prayer that God honors.
Let's return to the Garden and see what simple, heartfelt prayer that Jesus prayed. He simply says, "My Father, if it is possible, may this cup to taken from me. Yet not as I will but as you will." So there we have it, no long drawn out prayer using religious phrases and spiritual savvy. We hear only a plea for help that is followed closely by a deep desire to do the will of the Father.
What I get from Jesus' prayer is that there will be times in our lives when we will want God to change His plans, His word or His standards when they appear too difficult for us. I believe this is normal and can be understood, however, our bottom-line desire must also be for God's will to be done not ours.
I could quote numerous Scriptures to back up this principle, but the model of prayer given us by Jesus is one we are all familiar with, "Thy Kingdom come, Thy will be done on earth as it is in Heaven." As we grow in Christ and the knowledge of the truth, we will begin to see how things we casually repeat from memory are in fact, truths that we are expected to live out in our everyday lives.
MT 26:40 Then he returned to his disciples and found them sleeping. "Could you men not keep watch with me for one hour?" he asked Peter. 41 "Watch and pray so that you will not fall into temptation. The spirit is willing, but the body is weak."
Looking back at my garden experience, I thank God for a heart to always want to be in His will. Notice that I said "want to be." There have been numerous times (of which I care not to remember) where I have found myself outside of the will of God. Jesus said it Himself in this verse, "the spirit is willing, but the body(mind and soul) is weak" (my emphasis added). But, even when I am feeling weak and unable to be obedient to the will of God, He is faithful in making a way for me to obey. It is then up to me to choose that way. It is at that point that I just simply pray for strength.
Another thing I learned from my garden experience is that we should not get frustrated with ourselves when even after we have prayed, the overwhelming feelings return. When they do return, perhaps we should take notice of how our Lord handled the return of His feelings of sorrow.
MT 26:42 He went away a second time and prayed, "My Father, if it is not possible for this cup to be taken away unless I drink it, may your will be done."
MT 26:43 When he came back, he again found them sleeping, because their eyes were heavy. 44 So he left them and went away once more and prayed the third time, saying the same thing.
Verses 42 and 43 show Jesus having to pray a 2nd and 3rd time, but each time He appears to have more strength. He is no longer asking that "cup by taken away" He says, "My Father, if it is not possible for this cup to be taken away unless I drink it, may your will be done." He has made up in His mind to do the will of God at any cost. Sometimes, the cost to do God's will is painful. I know because the circumstances that led to my garden experience, "painfully" cost me giving up what I wanted, to do what God wanted. Unlike, Jesus, I had to return and pray more than 3 times and I am still praying for strength.
MT 26:45 Then he returned to the disciples and said to them, "Are you still sleeping and resting? Look, the hour is near, and the Son of Man is betrayed into the hands of sinners. 46 Rise, let us go! Here comes my betrayer!"
I am thoroughly convinced that God gives me strength and will continue to give me strength. After all, after the 3rd time Jesus prayed he is seen in verse 46 going to meet His enemies, not shying away from them.
How did God strengthen Jesus and how does He strengthen us? The answer can be found in the Book of Luke 22:41-43 which gives us a closer look into the Garden of Gethsemane.
LK43 An angel from heaven appeared to him and strengthened him. 44 And being in anguish, he prayed more earnestly, and his sweat was like drops of blood falling to the ground.
Luke describes the physical condition of Jesus in the garden. It says He was in "anguish, prayed more earnestly and His sweat was like drops of blood falling to the ground." To answer our question as to how we are strengthened, verse 43 explains it. An angel from Heaven appeared to Him and strengthened Him." God sends His angels to minister to us and give us strength just as He did for Jesus.
I wonder if you can see how faithful and loving our God is. He will never leave us comfortless. He will come to us and be with us in our time of trouble Psalm 91:15.
There is no doubt in my mind that the peace and calm that come in times of trouble is God ministering to our souls. When I see how God dealt with others in the Bible, I know He will do the same for me. Because, He said, "I am the Lord, I change not." Malachi 3:6 (KJV)
ALONE WITH THE FATHER
As I stated earlier, the other characteristic of Jesus' prayer life was the pattern and priority He gave to prayer. Jesus always prayed alone and often early in the morning. He found the need to be alone with the Father in silence and in a solitary place. Very early in the morning, while it was still dark, Jesus got up, left the house and went off to a solitary place, where he prayed. Mark 1:35 (KJV)
Jesus often withdrew to lonely places and prayed. Luke 5:16. We also see Jesus alone all night praying in Luke 6:12-13 Jesus went out to a mountainside to pray, and spent the night praying to God. When morning came, he called his disciples... . Before Jesus began His ministry, He spent time alone with the Father, fasting and praying. Then Jesus was led by the Spirit into the desert to be tempted by the devil. After fasting forty days and forty nights, he was hungry. Matthew 4:1-2.
One last thought on the prayer life of Jesus. Did you know that while Jesus was here on earth, He prayed for you and me, the ones all who would come to believe in Him? Take a look.
JN 17:20 "My prayer is not for them (the apostles) alone. I pray also for those who will believe in me through their message, 21 that all of them may be one, Father, just as you are in me and I am in you. May they also be in us so that the world may believe that you have sent me. 22 I have given them the glory that you gave me, that they may be one as we are one: 23 I in them and you in me. May they be brought to complete unity to let the world know that you sent me and have loved them even as you have loved me.
JN 17:24 "Father, I want those you have given me to be with me where I am, and to see my glory, the glory you have given me because you loved me before the creation of the world.
JN 17:25 "Righteous Father, though the world does not know you, I know you, and they know that you have sent me. 26 I have made you known to them, and will continue to make you known in order that the love you have for me may be in them and that I myself may be in them."
JN 18:1 When he had finished praying, Jesus left with his disciples and crossed the Kidron Valley.
I am always appreciative when someone says they are praying for me. But it gives me greater joy to know that Jesus prayed for me because I know God answered that prayer coming from the One in whom He is well pleased.
WHAT'S NEW
George Angels Newsletter is pleased to announce the construction of a website. It is called, ANGEL NEWS. It should be up and running October 15, 1999. We thank God for this opportunity to reach even more people with His Word. Hopefully, it will encourage other families to begin a Newsletter to share Christ with each other.
As always, the primary purpose of the Internet ministry is the same as the writing ministry, to encourage believers in their walk with the Lord and to share Christ with those who do not know Him.


The site has an invitation to accept Christ at the end of each published Newsletter. It has background information on how the Newsletter was started, introductions of Bishop Moye and His family, 1998 and 1999 Newsletters, Family News updates, Bible Studies, Email access to send prayer requests, articles and testimonies and last but not least a Call to Salvation page which contains the Prayer of Salvation available to all who visit the site.


Begin to gather email addresses of all those you want to receive the Newsletters via email or any links to sites you believe will give us access to share our Newsletters. More information will be included in the October issue of the Newsletter. In the interim, pray for God to lead and guide us in what He would have us do in this ministry.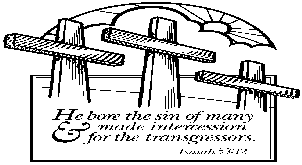 CALL TO SALVATION
If God were to require your soul today, where will you spend eternity? If you cannot answer this question or are unsure of your final destination upon your death, today is the day of Salvation--harden not your heart.
God loves you so much that He gave His only begotten Son to die for your sins, so that once you believe in Him, you will not perish but have everlasting life. John 3:16. God has a plan for your life. He wants you to have not only eternal life but an abundant life here on earth. A life full of peace and joy which comes from a personal relationship with Jesus Christ. John 10:10.


But, because of your sin, you are separated from God. Romans 3:23. The penalty for your sin is death. For the wages of sin is death, but the gift of God is eternal life in Jesus Christ Romans 6:23. However, Jesus paid the penalty for your sin and died for you in your place. Romans 5:8.


If you would repent of your sin, confess and trust Jesus as lord and Savior, you will be saved from your sins. For whoever call on the name of the Lord shall be saved Romans 10:13. You will need to confess with your mouth that Jesus is Lord, believe in your heart that God raised Him from the dead Romans 10:9,10. Visit the Call to Salvation webpage that contains the Prayer of Salvation, read it and pray with a sincere heart to God and you will be saved.


Now you are a new creation and must begin to grow in the knowledge and understanding of the Bible and your walk with Christ. First, be baptized and join a Bible teaching and believing Church where you can study the Bible and present yourself approved workman before God and not be ashamed when He returns. Begin to share your faith with others, giving witness to how Jesus has changed your life. See you in Heaven where we will meet the other saints that have go gone on before us.