HP m8067c Machine Specs: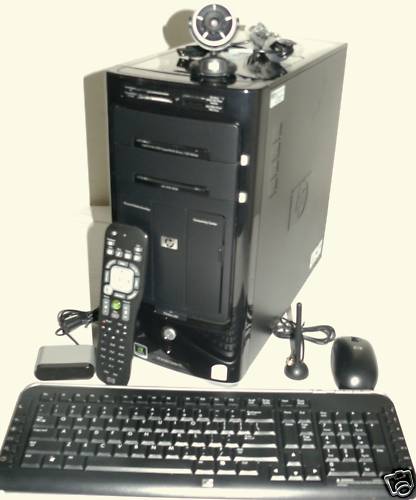 Processor:
2.4Ghz Intel(R) Core 2 Performance Analysis

Motherboard: Asus P5BW-LA
All the chipset/video/audio/raid drivers for this motherboard can be found at the Intel site http://www.intel.com/support/chipsets/sb/CS-022768.htm
Chipset:
The Intel P965 Express chipset is Intel's mainstream-performance core logic, it supports all Socket 775 processors running on a 533/800/1066MHz Front Side Bus. The P965 Express is married to the ICH8-series Southbridge which replaces the ICH7.
Memory:
3GB - 240 pin, DDR2 SDRAM PC2-4200 MB/sec.
8 GB (4 x 2 GB) (64-bit OS) 4 GB (4 x 1 GB) (32-bit OS)
Network Cards:
Integrated 10/100 Base-T networking interface - Actual - Integrated on MB
Operating Systems:
From

Vista

to

Win7

to

WinXP

!! Well, it came with

Vista

. This machine was/is for my wife. She needs to do a lot of copying and printing.

Vista

would not work well with my cp1700 printer. Tried

Windows 7

... and it was worse. Many attempts were made to follow the rules and procedures. None worked. I have dropped the machine back to

Windows XP

and my peripherals now work!! Still need to tidy up some things cause HP does not provide

XP

drivers for the hardware on this PC. Have found some but not all ... yet.


Christmas 2014:

Purchased a new Printer for this system, an HP Photosmart 7520 All-in-One. Then went back, or up to,

Windows 7

.


Febuary 6th, 2016:

UpGraded/UpDated to

Windows 10

. Fortunately, we had changed the graphics card below. Also the new printer works in

Windows 10

.
Video:


nVidia GeForce 7600GT

Replaced on August 30th, 2013
with

nVidia GeForce 9800GT

.
Sound:


Realtek ALC 885 chipset
Supports up to 8 audio channels
WDM_R247.zip - Realtek High Definition Audio Driver update improves compatibility with Adobe video editing software.

Main HD


500 GB SATA 3G (3.0 Gb/sec)
7200 rpm

DVDs - CDs
16X DVD(+/-)R/RW 12X RAM (+/-)R DL LightScribe SATA drive
Toshiba 2.4x HD DVD-ROM drive
Monitors:
ViewSonic A75s 17inch CRT
Wireless LAN
Wireless LAN 802.11 b/g
Product Information:

Keyboard & Mouse:
The Keyboard and Mouse that came with the system are of the wireless variety. There is a Receiver that plugs into a USB port and both items talk to the Tower via it. This one is different from my 7480. It looks like a USB memory stick. My 7480 was a little module with a cord that plugged into the USB. I think I prefer it.
Remote Control
USB infrared remote and receiver for media center. (TV changer)
WebCam
HP VGA Webcam
HP PC Count:
This is number 6.




Notations
As mentioned, indicated above, I/we changed from Vista to Win7 and finally to WinXP ... all in the name of peripheral compatability. I purchased a Windows XP Media Center online and installed it. Unfortunately, not all the drivers were there... and we seem to have some speed issues.
Later: Ok. The speed issue was mainly my fault. Had to load the software for the Netgear PS110 and then choose the correct port and all. Now prints fast.
Keyboard and Mouse
The keyboard and mouse are both wireless. However, my wife did not like either and we put back her previous items. A corded mouse and a corded KB.
Printer
Now then this gets interesting. In order for this mess to work, you must install the cp1700 drivers -AND- the PS110 Printer Server Software. Then use the Netgear Printer Server to setup the printer. The server is PSD55465 and the printer port is PSD55465_P1 for the first parallel port. Any other way is to slow!!
Replaced: As noted above, we got an newer up-to-date printer, an HP Photosmart 7520 All-in-One.
Sound
RealTek
EtherNet
BCM5701 Gigabyte Ethernet Driver. The BCM5701 is a fully integrated 10/100/1000BASE-T Gigabit Ethernet Media Access Control and Physical Layer Transceiver solution for high performance network applications. The BCM5701 is a fully integrated solution combining triple speed, IEEE 802.3 compliant Media Access Controller (MAC), PCI 2.2 and PCI-X 133MHz bus interfaces, deep on-chip buffer memory, and integrated physical layer transceiver in a single device. The BCM5701 is fabricated in a low-voltage 1.8um CMOS process providing a low-power system solution. By itself the BCM5701 provides a complete single-chip Gigabit Ethernet NIC or LOM solution.
It was a BEAR to find this driver. Good Luck in the future. You must jump thru hoops and holdyou tounge on the left side. There are a bunch of companies out there wanting to find all the drivers for you... for a price, naturally. -But- I am changing this from a Vista machine to an XP machine and the drivers, for the most part, are not readily available.
Hmmmmmm... still couldn't install it!!
This one is really strange cause ... I am connecting to the Internet through my local network. So what's this for??
Multimedia Video Controller
WinTV v7 for use with the WinTV-HVR-1600 This download is a complete installation package, including drivers for supported WinTV products plus the WinTV v7 application and utilities.
Installation note:
A valid WinTV application CDROM will be needed to install this WinTV v7 version. Any WinTV v6 or WinTV 7 application CD can be used during the install. If you do not have your original WinTV CD-ROM but would like to update to this WinTV v7 version, you can purchase a new CD on the Hauppauge webstore for $9.95 ... plus $2.95 for shipping.
Net Frame Work
Net Frame Work 3.5 ... forget why I need this.
PCI Simple Communications Controller
This is essentially a modem. Still having trouble but at this time it is not all that important. We're not using the phone for data communications.