My Personal Jump Points(
Why?? Just because...
)
---
---
I am re-writing this page and trying to use my Dream Weaver. I tried BlueGriffon AND right off the bat we had a problem. In Homesite I have a ton of snippets that I use heavily. BlueGriffon does not -- except for the purchased version. $75. Or at least it appears that is what it is. Dream Weaver and Homesite work together and I will be able to use my snippets. I already own both but I quit using Dream Weaver cause it messed up my "formatted" source. Neither WYSISWYG editor respected the margins while in the 'design' mode.
Well, not so fast. I can get 'some' control in Dream Weaver. NOT as good as with Homesite -but- it can be acceptable. Then more work... correct it later in Homesite.
Alllllrighty now... I have been working with my eyes closed. I read up on some details of how this works and I believe that I can use Dream Weaver and Homesite a lot more together. One of the more 'recent' probelems was/is that my displayed code did not display correctly in the 'Design' view. I have since learned that, as usual, it was my fault... and somewhat just HTML. It, HTML, was letting me create things in an unorthodoxed way. Sometimes 'backwards compatibility' can be a detriment. I have modified this 'original code template' immensely. However, all my 'mistakes' were still showing up in HTML correctly. Well, correctly to me anyway. However, they did not show up properly in the 'view design' portion of Dream Weaver. So, we are going to fix that in this one. And I have decided to move and place as much about the HTML/Computer part Down Here
Now the rest of this will be primarily about my Puppy. I am going to copy/cut and paste from my other one in order to re-create what I had... only more better.?.? But first a tribute to my previous companion:
And this was my beloved
Tipper
... whom I didn't realize how much I would miss until she was gone. The hi-light of her day was our daily morning walks. 14½ years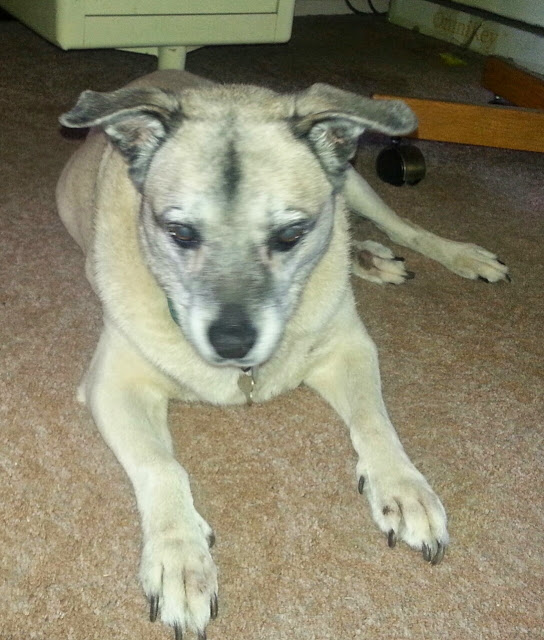 A Dog's Love
When you get a dog,
your house will never
be perfectly clean again,
and you may never
pee alone again,
but youwill have more unconditional
love than you ever
could have imagined.
Taken from unknown author on Facebook.
The above "Love" applies to both of my 'Puppies'. That is how I mostly refer to them. I think it sounds better and more intimate than 'Dog'. I did, right or wrong, treat them like one of my kids. Got both love -and- anger. Sometimes I did not have enough patience for either. I will admit that I have devoted more of my time to my
Dakotah
than I did with my
Tipper
. The first dog,
Tipper
, was originally purchased for our newly adopted son. He was 13 at the time and, well let's say that he didn't expect all the work involved in owning a dog. Especially a new puppy.
Tipper
became 'our', my wife's and mine, after a couple of weeks. Then due to my heart condition, she became my walking partner every morning. As for tricks and commands I will have to say that Darlene, my wife, did more of that training than me. Now
Dakotah
, on the other hand, was my puppy from the beginning. 'I' picked him out and 'I' trained him.
UpDate: May 24th, 2018 Not so much of an UpDate as to just state that I am making changes and I have sections that are quite similar. Yeah I have, in essence, the same thing in multiple places. As I have stated in other places, this is mainly for myself. If anyone else benefits, great.
This "WebPage" will be mostly for collection of references to things about dogs, which can, and/or will, concern my "New Puppy" born February 24th, 2015. He is a German Shepherd / Husky combo with a strong leaning to the Husky genetics... -or- at least I want to believe that, why?? I don't know just because. I still want the German Shepherd but I am intrigued by the Husky part. Now I have read that these Huskies are difficult to train, but I got him anyway. Hoping that the Shepherd mix will make him easier. Besides, I read about all that AFTER I got him. In the few days we have had him, he seems to be fairly smart. Hopefully this is not just my "Dog-Parent" pride. The items collected here will probably remain unchanged -but- a few will get altered to fit my situation and/or needs. Like, for example, the Mullberry tree. The one in the article was in their back yard. Mine is in the front.

Now then, you will find things repeated for two reasons. One; Cause I forgot that I put the item in here already and Two; Cause I think it is important for the subject at hand... in both or more places.

(Yeah, I like this little 'UnSure' guy.)
Now then, I have always liked German Shepherds, mainly cause I grew up with Rin Tin Tin. However, I have also been fascinated with the Huskies. As stated elsewhere, on this page, I fell in love with the picture of my new puppy on the Internet in Craigs List. We started looking for a 'replacement', which is not a good word, cause my Tipper could never really be replaced, after she passed, but we wanted/needed another animal. Both for us and for our kitty. I didn't specifically look for a GSD/Husky but was looking for one or the other. As it turned out I got both. I didn't realize what I was getting into. I want to emphasize that I 'lucked out' and got a wonderful dog. He, as stated elsewhere by others, is NOT a stroll in the park...-BUT- he has become a very enjoyable part of my life. Just need to learn how to properly train, handle and associate with him. Think he is smarter than me.
Update: March 24th, 2018 My Dakotah like my Tipper has somewhat become the neighborhood dog. Not as much as Tipper but getting there. Almost everyone knows his name. Don't necessarily know mine but they know his. He still has that 'stranger danger' concept but IF he knows you he is all over you. He is mostly friendlier with the ladies, young and old. He has settled down some -but- still needs a lot of exercise and does NOT like to be alone. And, I am proud to say, that he runs FOR home, rather than running away.
Comments...

Ok this will have references to the use of my HTML editors and other computing discretions. I am working on both Puppy and Computer. In this 're-beginning' I may work with and talk about the HTML/Computer portion more than the Puppy portion... or not. Just depends on what whoever is reading this thinks. It is mostly for me and anyone that I can get to read it anyway.