This "WebPage" will be mostly for collection of references to things about dogs, which can, and/or will, concern my "New Puppy" born February 24th, 2015. He is a German Shepherd / Husky combo with a strong leaning to the Husky genetics... -or- at least I want to believe that. Now I have read that these Huskies are difficult to train, but I got him anyway. Hoping that the Shepherd mix will make him easier. In the few days we have had him, he seems to be fairly smart. Hopefully this is not just my "Dog-Parent" pride. The items collected here will probably remain unchanged -but- a few will get altered to fit my situation and/or needs. Like, for example, the Mullberry tree. The one in the article was in their back yard. Mine is in the front.

Now then, you will find things repeated for two reasons. One; Cause I forgot that I put the item in here already and Two; Cause I think it is important for the subject at hand... in both or more places.

(Yeah, I like this little 'UnSure' guy.)
Now then, I have always liked German Shepherds, mainly cause I grew up with Rin Tin Tin. However, I have also been fascinated with the Huskies. As stated elsewhere, on this page, I fell in love with the picture of my new puppy on the Internet in Craigs List. We started looking for a 'replacement', which is not a good word, cause my Tipper could never really be replaced, after she passed, but we wanted/needed another animal. Both for us and for our kitty. I didn't specifically look for a GSD/Husky but was looking for one or the other. As it turned out I got both. I didn't realize what I was getting into. I want to emphasize that I 'lucked out' and got a wonderful dog. He, as stated elsewhere by others, is NOT a stroll in the park...-BUT- he has become a very enjoyable part of my life. Just need to learn how to properly train, handle and associate with him. Think he is smarter than me.
Crossing a German Shepherd dog with a Siberian husky has led to a distinctive dog known as the German shepherd husky mix, Siberian shepherd, German husky, Husky-shepherd or Gerberian Shepsky depending on your preference.

Belgian Shepherd Husky Hybrids
Chips the most highly decorated WW2 dog was a German Shepherd / Husky / Collie mix.
Husky or Wolf Shepherd or Wolf Breeds with Known Wolf Ancestry Wolfdog
Why all these references to Wolf Dogs?? Cause I have had many people tell me how my Dakotah looks so much like a Wolf. In fact a number of the neighborhood kids have asked me if they could pet my Wolf.!!
The Three Basic Kinds of German Shepherds
June 22nd, 2016 One thing that I want to say right here at the top. I have learned that it is the "Quality" of the treat that matters and NOT the "Quantity". During this past year of ownership I have learned that the hard way. IF I had used better treats from the beginning I'm sure... no... I know, that my 'Puppy' would have better manners and be better trained. He isn't all that bad now -but- he would have been better. So IF you are reading this and looking for 'tips' on training... get some quality Treats to use... right at the start!! (Chicken and Cheeze seem to get the best results, along with "Beggin Strips Bacon and Cheeze flavor".)
From: ThatMutt.com
Mistake #4: Not using the right treats.
And I mean treats ! Not dry Milkbones, but hot dogs, real hamburger, pieces of chicken, etc. (It doesn't hurt to train your dog when he's a little hungry, either.)
What makes a great training treat? Myth Busting - Dogs that Aren't Food Motivated
March 16th, 2017 One other thing... you and the dog... need some 'alone time' training.
This contains Pics and Videos, which may, no it does, make this load up fully ... slowly. (some English... ehy, what!?!) I have referred to him as my Cat Dog, Garbage Dog, Water Dog, Genius Dog... and a few others -and- one of them you will see in the included pics and vids. Chameleon Dog. He started out as this pretty Siver/Gray puppy and has changed to darker and back to lighter over the months. The names are not meant to be derogatory just that he seems to eat everything, loves water, imitates the cat... etc.
This time around, with my New Puppy, I hope to be a better owner than I have in the past. Love and praise need to come out more than stern no's and reprimands. The later is required at times but should be minimal. What I have learned in this "retraining" of myself is; you need to find something else for the pup to do instead of just saying "Stop, Quit, No, Get Off or Down". Direct his/her attention to something else... like a chew toy instead of the furniture. AND most importantly... praise him/her for chewing the toy.
November 7th, 2015 My 'Puppy', Dakotah, is now 36 weeks of age. Of that time, he has been in my possession for 31 weeks. By some calculations he is 8½ months old and by others he is 9 months old. I prefer the first calc. Now he will do things -and- he won't do things... good and bad. One of the things, and really the main one, that I wanted to accomplish by his 1st birthday was/is; to have him 'come to me UN-Conditionally when called'. Right now, that is not happening. I seem to be the most desirous thing in the world when I come home from work or from going somewhere -but- NOT outside. And the reason is not becuase of anything in particular. He just likes to go to the neighbors houses. One is directly across the street where the lady of the house is dearly loved by my Dakotah -but- the feeling in NOT mutual. Still he wants to be with her. And next door to her lives his friend Tomodachi, a Heeler dog, that is only 2 weeks younger than my Dakotah. I do not run, chase or yell at him. I just walk after him till he finally comes to me -or- I corner him in one of the side yards. This I have been told, and read about, is the reason a number of dogs his age get taken to shelters -or- the dog pound. Well, mine won't!! Actions and antics like these are expected until they are 18 months, or so, of age... or so 'they' say. That means I have until August of 2016... just so happens that I will turn 70 at that time!!
August 24th, 2016 Well, I have had my 70th Birthday and today is Dakotah's 18 month birthday. Yes he obeys me better and he did mellow out a little bit. Still not where I would like him to be -but- that is my fault and not his. I did not spend enough time with him on the essentials. I took him on a lot of "exercise walks" with his dog friends but not enough training exercises. Can't expect him to learn and obey what he is not taught and/or practiced with/on.
Credits/References: ALL "Statements/Paragraphs/Ideas" taken from another WebPage, to 'emphasize' the item that I am at the moment concentrating on, are properly referenced, IF not at the same spot, it will be somewhere else on this WebPage.
These particular references were placed up here in the beginning because ... I believe that they are very, very important... Defensive Dog Handling -and- Training Never Ends -and-
Step by Step to Training Your Puppy -and- Zak George's Dog Training rEvolution
-and last but not least- The Top 5 Times a Child Should Never Pet a Dog
And this was my beloved Tipper... whom I didn't realize how much I would miss until she was gone. The hi-light of her day was our daily morning walks.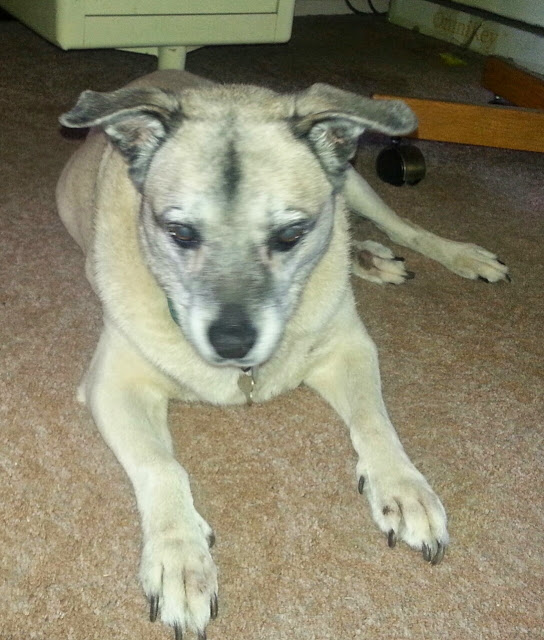 A Dog's Love
When you get a dog
your house will never
be perfectly clean again
and you may never
pee alone again
but will have more
love than you ever
could have imagined.
Taken from unknown author on Facebook.
Consider Your Dog's Breed and Individual Personality
To a professional trainer, thoroughly teaching a behavior means dozens, hundreds, even thousands of reps.
A Husky German Shepherd mix will be fairly easy to train as long as you are consistent and patient. In this first year I think that I have been more patient than usual -but- not consistent enough. Shame on me and I hope to improve on that. I didn't know, or didn't realize a lot of things and now we both have learned a lot.
When you evaluate the thoroughness of your training, take your individual dog into account. It's a challenge to teach Afghans and other sighthounds to come reliably when called. Terriers, who belong to a group of breeds developed precisely as tireless hunters of vermin, will find rodents more intensely interesting than your average dog. Miniature Pinschers are notorious for their inclination to bark. If you're finding it a slog to teach your dog a particular behavior, consider what she was originally bred to do. When you train against the grain, expect to need extra time and practice.
German Shepherd Not Listening
Dakotah Shepherd - a "new breed"???
Some Famous German Shepherds
Rin Tin Tin

,

dogs who starred in the classic TV shows and movies
Clipper

,

U.S. First Lady, Jacqueline Kennedy's dog
Buddy

,

the first Seeing Eye Guide Dog and owned by Morris Frank
Strongheart

,

star of movies, including a 1925 movie, White Fang
Gandalf

,

a search and rescue dog who found a missing boy scout in 2007
Orso

,

, owned by US General Norman Schwarzkopf
Ork

,

, owned by singer/songwriter, Amy Grant
Blondi

,

Adolf Hitler's German Shepherd
Refer:
How to Love your Dog
Comments...

How do you spell love?? ... T - I - M - E Obedieance?? ... T - I - M - E
Whatever age the dog is... it will take time to train. -AND- Puppies, just like a baby, demand a lot of time -and- patence!! IF you do not have it ...time... then do the animal a favor and don't get it. Now, 13 weeks later, I am wondering IF 'I' should have left the pup for someone else. -BUT- we at times have the same kind of complaint about our kids... don't we. But, Dakotah, like our kids, will do something to make us forget the incident, -and- remind us how grateful we are to have them... and him. -AND- we have the equivalent "teenage" time. Fortunately, it only lasts for months and not years. Refer: Surviving the Teen Months
We made it!! Today is his 18 month birthday... and he is doing better. He would be doing even better IF his master took more time in trainng!