Well, I posted this start and never got any further. The M9 turned out to be a disappointment to me. And I am leaving this verbiage... just because. And I am changing/revising the whole rest of this page to be covering my new HTC M10. Like my ReZound page(s), I am collecting info from all over. Plans are to get it organized eventually -but- it didn't happen with the Rez so I doubt that it will happen with my M10.
HTC M10 - XDA Developers 10 awesome things you didn't know your phone could do
HTC10 Gets First Lineage OS Nightlies Lineage OS
Now then, I am calling this an HTC M10 because I think it sounds better than just an HTC 10. You will find, embeded in the phone itself, it is called an "HTC One M10"... by the manufacturer themselves. So, mocks nicks.... ro.product.name=HTCOneM10vzw
Another Review  HTC 10 troubleshooting  
---
HTC

M

10

(codenamed "pme" ie; Perfume) announced on

April 12th, 2016

Phone released to the USA May 6th, 2016 / With Pre-Orders

April 29th, 2016

Purchased mine on

June 30th, 2016

at the

Verizon

store.
GSM / CDMA / HSPA / 4G LTE Capable
12 MP Rear / 5 MP Front Cameras - both OIS
f/1.8, 26mm - f/1.8, 23mm
4K video recording with Hi-Res Audio
2.15GHz Qualcomm Snapdragon 820 64-bit, quad-core processor
32GB Storage Capacity and 4GB RAM
Expanded up to 2TB using a microSD card
5.2" IPS LCD5 Touchscreen 564 pixels per inch Display.
Full Quad-HD 1440 x 2560 Resolution
QHD display is protected with a layer of Corning Gorilla Glass 4
The 2.5D glass meets the aluminum edge smoothly.

HTC

BoomSound with Front-Facing Speaker at the top
A sub-woofer is at the bottom of the smartphone
Proximity sensor, Ambient light sensor, Accelerometer, Gyroscope, Magnetic sensor, fingerprint sensor, Motion G-sensor
Connectivity: 4G, LTE, 3G, Wi-Fi, Bluetooth, GPS, NFC and USB Type C
A 3,000 mAh battery boasting Qualcomm Quick Charge technology. Supposed to last for 2 years.
Android 6.0.1

Marshmallow

OS with Sense 8.0
Verizon -
modelid: 2PS650000
cidnum: VZW__001
---
Verizon's branded phones continue to have locked bootloaders. I just moved from an HTC ReZound to this HTC M10. At first grins I'm not so sure that it was a good move. I've had the Rez for almost 5 years -and- it feels better in my hand. But we shall see. I will have to go through the UN-locking process and S-Off and rooting again.
UpDate:(July 11th, 2016) I have been using the new phone for a while and now it feels better than the old one. Like always, it just takes some time.
Refer: North American Carriers HTC United States and the question; Why to we even care??
The article referred to is concerning the new, at this time, iPhone 7. However, all the questions in the article, I believe, applies to this and all Smartphones. It was one reason I kept my HTC ReZound for so long. Almost 5 years.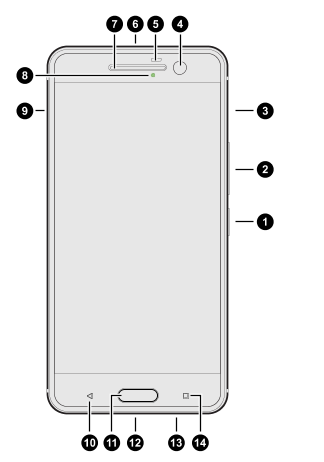 POWER

VOLUME

nano SIM

card slot
HTC UltraSelfieTM camera with OIS
Proximity sensor
3.5mm headset jack
Earpiece
Notification LED
microSDTM card slot
BACK

HOME

/ Fingerprint scanner
USB Type-CTM connector
HTC BoomSoundTM Hi-Fi edition speakers
RECENT APPS
Dimensions: 145.9 x 71.9 x 9 mm (5.74 x 2.83 x 0.35 in)
Comments...

HTC-M9GSM-GM HTC-M10-32GB-SLV HTC Support
Your Warranty is now possibly Void. Depends on the person you contact cause you messed with the phone. I am NOT responsible for bricked devices, dead SD cards, thermonuclear war, or you getting fired because the alarm app failed. Please do some research IF you have any concerns about features included, or referred to, on this WebPage. YOU are choosing to make these modifications, and IF you point the finger at me for messing up your device, I will laugh at you.