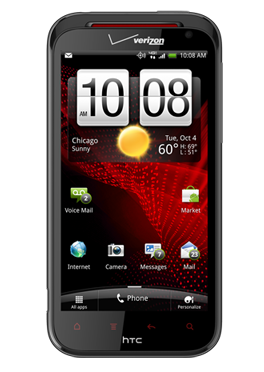 HTC
Re

Z

ound Smartphone
Today, yep on New Year's Eve, we finally broke down and ordered a Smartphone. As you can observe by the title it is an HTC ReZound. We looked over all the phones available and read the Reviews. They all complained about the battery usage so that was kind of a mute point. However, the features offered -and- the ones we were interested in seemed best served by this phone. We haven't had any experience with this -or- any other Smartphone. Hopefully, it won't cost us an arm and a leg to learn things. The phone is on back-order and we won't see it till some time between Jan 19th and Feb 6th, 2012. Guess everybody read the same reviews we did. Verizon announced it's availability 14 Nov 11 -but- it was officially released, by HTC, on 3 Nov 11.
So, we decided to start our WebPage on it anyway and learn as much as we can about it before we receive it. Then as we find things we can record them here for ourselves and anyone else that is interested. Which will result in some chaos for a while. We will get it organized -but- getting the info first -and sharing it- is more important to us at the moment. Info... Speaking of which, we try to give credit to all, in the things we find. However, sometimes we forget for one reason or another. IF you find something here that you feel you should get credit for, but haven't, please send us an E-Mail and we will correct the error. So far we are liking this phone... a lot.
Names referring to the phone: vigor(rezound) ADR6425LVW Verizon.com
Hurray!!! It arrived early by UPS January 5th, 2012/6:15pm!!
HTC ReZound Device Layout: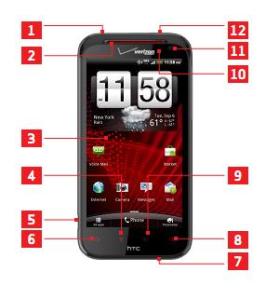 1. 3.5mm headset jack
2. earpiece - and the
proximity sensor which is just above the check mark start
3. touch screen
4. Menu button
5. usb connector
6. Home button
7. microphone
8. Search button
9. Back button
10. led notification - and the
light sensor is here too
11. front camera
12. Power/Lock button
IF
you get one of the Native
HTC
Re

Z

ound
screen protectors you will see notches in the areas at the top of the phone where the two sensors are located.
IF
you get some other type of protection you will possibly block the sensors. -Or- possibly at least make it difficult for them to work.
For your convenience:
Verizon Glossary
-
WiKi ReZound
-
Android Common Terms
Warning


The instructions -and- information in this guide are intended for use with the

HTC

Re

Z

ound

. Applying these instructions on another device or model may, and probably will, produce undesired outcomes.

August 1st, 2015/12:24am Well, I found this SpecOut site in my many searches for information. Looked interesting so I am putting a reference to it here. However, DO NOT believe that the Rezound can handle Android 5.1... cause as of this date ... it can't.

ARRGGHHH!!! --- Oooops, it broke!!

Well, here it is, a little over 7 months, and it broke! Yep. Had it on charge and the wife called. Picked it up and nothing but her picture... which is still all I get. Pretty -but- the phone is not useful. The "Pull Ring" at the bottom is just a decoration... now. Pulling on it does nothing. Can not get off that first page.

Went to the Verizon Store -and- contrary to what we have heard, they were very friendly and helpful. In less than 20 minutes they looked at our phone, agreed that it was broke, and then ordered another. It will be at our residence the next day. We are to keep the broken phone till the new one arrives and then send the broken one back.

Now then, we have read on the Net that they do not necessarily send 'new' phones. We have a strong chance of getting a - Certified Like-New Replacement (CLNR) device... which consists of:
A complete 100+ point checklist to ensure every area measures up to our standards of excellence
Visual cosmetic inspection
Advanced functional, manual and electronic inspections
Latest software and hardware upgrades
Now this part we do NOT like:
If your current device is under warranty and experiences electrical or mechanical malfunction due to manufacturing defect, you will receive a Certified Like-New Replacement (a like unit -or- one of comparable quality).
We do
NOT
want one of comparable quality... we want our
HTC
Re

Z

ound
.
Ok. Next day we got our New Phone. Wasn't really new but loooked and acted like it. It was one of those
CLNR
's. Contrary to some, we have had good customer experience with
Verizon
.
---
July 10th, 2013 / 11:37am Writing up today concerning our latest breakage. Whilst at work, 3 days ago, we tried to make a phone call and the screen went crazy. After work, and over the next couple of days, we tried to 'fix' it. However, it was another 'Electronic', or 'Hardware' Problem and we had to 'exchange' it. The replacement arrived today about half an hour ago.
---
September 9th, 2013 / 2:30pm Another phone. The last CLNR phone was 'not' good from the start. The physical buttons were not sticking up far enough for 'comfortable' use. This latest CLNR is not much better, in fact, it may be worse. However, the reason for needing a replacement phone... the proximity sensor was failing... works ok on this phone. So, we will put up with the buttons for now. Hopefully, the next time... IF there is a next time... we will get one with better buttons. Not to sure how much longer they are going to offer "replacements" for this phone since it has reached and exceeded its EOL.
---
March 11th, 2014 / 12:33pm Another phone. Another CLNR. Finally, got tired of physical buttons on the previous phone. They seemed to be getting worse. Went back to the store and complained. They agreed and ordered another CLNR, which I received today. The buttons are better -but- still not as good as my very first one, which was Brand New. I "tried" to put my 'last' screen saver on and failed miserably. Went back to the store and, naturally, they did not have any. However, they could order some -and- they will put it on. Waiting for the screens. Using the one I put on for now. Got to have some protection -even if- it is bubbled!!
Now you might be asking... "Why doesn't he just get a new phone??". They haven't come out with one that I like... yet. HTC is comming out with a new version of the HTC One (M8) on March 25th. The previews of it have been interesting.
---
Performing a hard reset will remove ALL data including the Google account, system data, application data, application settings and downloaded applications. Only perform this reset if absolutely necessary.
(
Only reason this is here is... we tried the Hard Reset in order to fix the above problem. But it didn't.
)
If you can't turn on your phone or access the phone settings, you can still perform a factory reset by using the buttons on the phone.
Remove the battery (Please see OnOff), wait for a few seconds, then reinsert the battery to turn off your phone.
While holding down the volume down key, press the Power / End key.
When the HBOOT screen appears, release the keys.
Press the volume down key to select Factory Reset then press the power key (upper-right corner).
This boot process takes several moments, reference the progress bar located in the upper-right. If the device hangs or freezes, remove / replace the battery, refer to Inserting / removing the battery for assistance.
To setup the device, refer to Initial Activation & Setup.
---
---
Verizon Wireless Early Termination Fee
If
you purchase a discounted phone with a two-year contract and then cancel after the 14-day return period, Verizon will charge a pro-rated Early Termination Fee based on your phone/device type.
For my
HTC
Re

Z

ound Smartphone
which was purchased after November 14, 2009, Verizon charges $350 minus $10 for each full month of your Service Commitment that you complete.